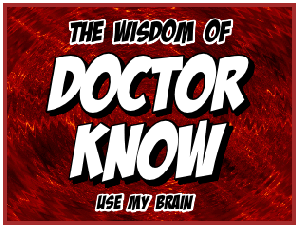 Don't Let Someone Else Define You
Success Is Out There Waiting...
Before You Write Your Next Article
Don't Let Anyone Tell You How To Write
Have You Assigned Yourself Any Personal Rights?
Do You Sound Like A Broken Record?
Five Characteristics Of Achievable Goals


The Tasteful Life Of Fannie Famer
I Am NOT Smarter Than This Fifth Grader!
The Man Of A Thousand TV and Movie Themes
A Rowdy Guy Who Made Pro Wrestling Fans Smile
The Inspiring Story Of Rhonda Rousey
You're Never Too Young To Follow Your Passion
An Inspiring and Very Funny Life
Idol, Voice, X Factor: It Started With... Godfrey

BACK to Doctor Know
Bill can be contacted on FACEBOOK.
©