I Am NOT Smarter Than This Fifth Grader! ...by Doctor Know
I used to believe that only a parent could feel the kind of gut level sense of grief that we experience every time we see a news story about yet another young child who died because they were left in a hot car. I now know that's incorrect. Bishop Curry is an eleven year old boy from McKinney, Texas. Bishop saw and experienced the grief that occurred after Fern, his neighbor's sixth month old baby girl, died because she was left in a hot car last year. Instead of simply mourning her loss the fifth grader decided to do something to stop hot car deaths.
After sketching a rudimentary layout of his idea on some of the notebook paper he used for school, Bishop Curry made a 3D print out of his invention in clay to show his family what the device would look like as he described what it could do. Everyone was impressed, but they did not have the kind of money it would take to obtain a patent and build a working model. Bishop's dad works as an engineer for Toyota and instantly knew this was a great idea that needed to become a reality. He created a GoFundMe page and used social media to spread the word.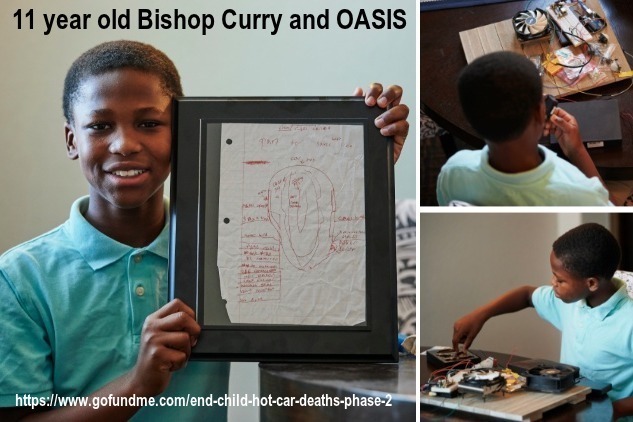 Thousands read, shared and responded. After a few months they had $24,000 and more was coming in. They closed the GoFundMe appeal at $50,000 which was spent on attorney fees and prototype development. Toyota was also impressed and sent the father and son to a Michigan event where people with car safety products present them to car makers, auto parts dealers and other retailers. As of this writing Bishop now has a patent for his invention which he received in April (2018). He calls it Oasis.
According to his dad, also named Bishop Curry, the patent lists Oasis as a "child heatstroke prevention device." The family is working with a silicon valley company that specializes in bringing new inventions to market. What started as a simple device that would fit on a car seat and turn on fans has become much more. Bishop improved his design so that it will now notify parents and authorities that a child has been left in a car and provide them with the location. Curry hopes to add another feature sometime in the near future which starts the car and turns on the air conditioning. Fern's parents support this project hoping it will prevent others from experiencing the kind of tragedy they have had.
To help Bishop Curry get Oasis to market, Like and Share this posting, then visit:
https://www.gofundme.com/end-child-hot-car-deaths-phase-2

(DOCTOR KNOW) Bill can be contacted on FACEBOOK.