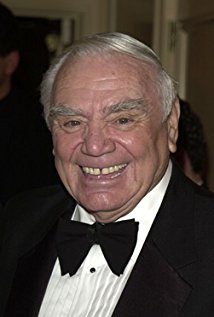 His Friends Called Him Eddie
Ermes Effron Borgnino was the last guy you would ever expect to became a movie star. He had no real interest in a film or stage career and looked more like a professional wrestler than an actor. Born in Hamden, Connecticut on January 24, 1917, his parents were both from Italy. They briefly separated around the time he was two years of age, but after reconciling the family moved to North Haven, Connecticut and Americanized their last name to Borgnine.
After graduating high school, Borgnine joined the Navy in 1935 and served with honor for ten years receiving accolades like the Good Conduct Medal. In 1945 he returned home without any real prospects for a job or secure financial future. His mother saw that he was not going to settle for some dead-end factory job even if he could find one, so she recommended that he try acting because of his outgoing personality. That is when the acting career of film and television icon Ernest Borgnine was born. Within ten years of that momentous decision he received an Oscar for Best Actor which was handed to him by Grace Kelly for 'Marty'.
I grew up in the 1960s, so the Ernest Borgnine I came to know was the one that appeared in films like 'The Wild Bunch', 'The Dirty Dozen' and 'Escape From New York'. I watched and laughed along with the rest of America when the 'McHale's Navy' television series hit the airwaves. It was in that role that Ernest Borgnine proved himself to be a truly diverse character actor and equal to the comic genius of co-stars like Joe Flynn, Tim Conway, Carl Ballantine and Gavin MacLeod to name a few.
The man who was often called Eddie by his close friends and colleagues was always willing to push the acting envelope. After winning praise for his role in 'From Here To Eternity' as Sergeant "Fatso" Judson and being all but typecast as a heavy in that 1953 film, he came back at movie audiences as a sensitive and often tortured soul in 1955's 'Marty'. His portrayal of Marty Piletti won him an Oscar and proved that Ernest Borgnine could dig deep and play break out roles in ways that no one ever expected.
When 'Escape From New York' came along in 1981, I wasn't surprised to see him shine as the stand-out character of Cabbie in John Carpenter's sci-fi action thriller. It always amazed me how Ernest Borgnine was able to bring a character to the attention of film audiences in such a magnificent way without doing it at the expense of his fellow actors. He obviously had an intense passion for acting and loved working because he simply refused to retire.
Always in demand, Borgnine returned to series television at the age of sixty-nine to play helicopter pilot Dominic Santini in the classic 1984 CBS drama 'Airwolf' until the show was canceled after fifty-five episodes in 1986. This was a particularly demanding role for the master character actor because of the rigorous shooting schedule and the personal demons that his co-star (Jan Michael Vincent) was dealing with that often made Vincent late or a no-show for work.
You can't keep a good man down and Borgnine proved that by keeping busy in the new Millennium and working into his 90s. No one was more surprised than I was when a familiar and gravelly voice first graced SpongeBob SquarePants, one of my children's favorite cartoon shows. Ernest Borgnine played the animated role of Mermaid Man, a semi-retired super hero living in a Bikini Bottom nursing home along with Barnacle Boy, his trusty sidekick played by former McHale's Navy co-star Tim Conway. Borgnine played that role right up until his death on July 9. 2012.
Although his personal life was never as smooth as his acting career, Ernest Borgnine left behind a wonderful body of work and a legacy as a hard worker who gave his all to his art every time he stepped in front of a camera. Borgnine became a role model to everyone by proving that you did not have to look like a Greek god or have the perfect voice to be successful as an actor or anything else. Always known as the person who came to work with more energy and enthusiasm than anyone else on a set, he was and remains an inspiration to us all.