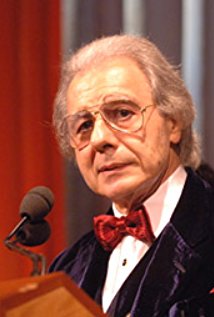 The Man Of A Thousand TV and Movie Themes ...by Bill Knell
I don't know if he has actually written a thousand themes, however, he has certainly managed to write enough of them to have a major influence on the world of music and entertainment. More importantly, Lalo Schifrin has a musical gift which has allowed him to capture and even help define the essence of countless TV series and film projects. These include the themes and scores from notable TV series such as Mission Impossible, The Man From U.N.C.L.E., Medical Center, T.H.E. Cat, The Big Valley, Mannix and Starsky and Hutch. His motion picture themes and scores include several Clint Eastwood movies (Coogan's Bluff, The Beguiled, Dirty Harry, Magnum Force, Sudden Impact, The Dead Pool, Joe Kidd) and hundreds of other films like The Liquidator, The Cincinnati Kid, Cool Hand Luke, Enter The Dragon, Bullitt, Kelly's Heroes, The Fox, Voyage Of The Damned, The Sting II, The Osterman Weekend, The Eagle Has Landed, Sweetwater, the Rush Hour movies and The Amityville Horror.
A few years ago Clint Eastwood said, "Lalo did a great job on Dirty Harry." Eastwood asked Schifrin to score all his Dirty Harry sequels (although Lalo was not available when The Enforcer was in production, so he missed that one). Clint also brought him on board for several of his other film projects as well. Lalo Schifrin has spread his influence even further by mentoring young and gifted composers like Ron Jones who went on to write music for Star Trek: The Next Generation, The A Team and Magnum P.I., to name just a few of his scoring achievements. All of this was not what most people probably expected from the man born in Buenos Aires, Argentina, in 1932 as Boris Claudio Schifrin. That is because his father was a classical music violinist and conductor of the Teatro Colon violin section of one of Argentina's most respected orchestras for about thirty years.
Lalo Schifrin started his own musical journey when he was six years old. He began a six year classical piano study under Enrique Barenboim, noted for his knowledge, musical ability and style. During his teens Lalo became a student of Andreas Karalis, once the head of the prestigious Kiev Conservatory before he fled Russia. Schifrin was also fortunate to be taken on as a student of Juan-Carlos Paz, a famous Argentinian composer. Despite all his classical music training, Schifrin broke out of his father's mold in the 1950s and became a talented composer, conductor and arranger of all kinds of music. The Grammy Award winning, Emmy Award winning and six time Academy Award nominated composer set his sights on Contemporary Jazz in the 1950s after he moved to Paris having earned a scholarship to study at the famous Paris Conservatoire. During that time he also began to perfect his jazz skills by playing in many of the popular modern music clubs in the city of lights and also represented Argentina at the 1955 International Jazz Festival held in Paris.
After returning to Argentina he organized and lead the first jazz orchestra in South America. He later worked with such contemporary jazz music luminaries as Cannonball Adderley, Count Basie, Dizzy Gillespie, Al Hurt, Sarah Vaughn and Stan Getz. During his time back in Argentina Lalo wrote and performed the score for the film El Jefe. That effort won him an Argentinian Academy Award. In 1960 he came to New York City to work as an arranger for Xavier Cugat's famous big band/latin music style orchestra. By 1963 Schifrin was married and moved to Hollywood where he got a huge break having been given a contract to work with M-G-M Pictures. He worked on several projects including Rhino! and became an extremely popular TV Series theme and score composer. His next big break came a couple of years later when he was asked to write the theme and musical score for The Planet Of The Apes (screenplay written by Rod Serling and starring Charlton Heston).
During the 1960s, 1970s and 1980s Schifrin wrote many of his most iconic music themes and scores. After scoring so many hit TV series and films, Lalo used his new found fame to begin performing his own music and released several popular contemporary jazz-style albums on Verve and other record labels. In 1997 he formed Aleph Records with his wife Donna which allowed him to record and release his solo efforts. These included Jazz Goes To Hollywood, some jazz-rock compositions, as well as live performances of his Mission Impossible and Dirty Harry themes and musical scores. Never one to limit himself to a particular form of music, Lalo also worked with The Three Tenors (Jose Carreras, Placido Domingo and Luciano Pavarotti) which marked his return to his interest in classical music. In recent years Schifrin has gained even more notoriety by performing and recording in that genre. However, he still performs jazz, his themes and scores, and even composes some occasional movie music as evidenced by his recent work on the Rush Hour films and Sweetwater (2013). Now in his eighties, Lalo Schifrin lives in Beverly Hills with his wife in a mansion once owned by Groucho Marx.