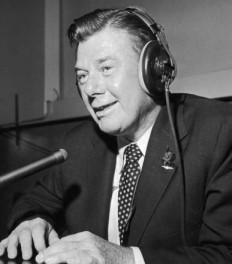 IDOL, X- FACTOR and THE VOICE: It Started With A Guy named Godfrey ...by Bill Knell
Most people think that reality shows are a modern television invention, but that's not really accurate. They all began with local talent shows. These can be traced back to the 1800s when theater and opera house owners all over the USA discovered that people loved to watch folks just like them perform on a professional stage. After all, it wasn't always easy to get major talent on your stage for a reasonable price and the show had to go on if entertainment entrepreneurs wanted to make a buck.
By the 1940s local talent shows were a craze that were taking the USA by storm. These competitions were even mimicked in Hollywood films where plots would often include the idea of local talent getting together to 'put on a show'. Radio also took notice. Arthur Godfrey's Talent Scouts began its first national broadcast in July of 1946. The show sent out 'Talent Scouts' that crisscrossed the USA in search of performers who, once chosen, would appear on the show before a live audience. The winners were chosen by the results of an Applause Meter that measured the audience response to each act.
The real star of the show was a man named Arthur Godfrey. Born in New York City in 1902, Godfrey had show business in his blood. His mother was a gifted pianist. Although she had to put aside serious performing to raise her children, she did often provide piano accompaniment for silent films which helped to feed her family. In her later years Kathryn Morton Godfrey gained some fame by composing classical works that have been performed by Symphony Orchestras throughout the world.
Between 1920 and 1930 Arthur Godfrey served in both the U.S. Navy and the U.S. Coast Guard. During his time in the military Godfrey was trained in radio work and found his niche. While still serving in the Coast Guard during the late 1920s, he won a local talent competition singing and playing a ukulele. He became popular enough with the locals to be offered his own weekly radio show on a Baltimore radio station.
While preparing for his first live broadcast, Godfrey listened to other announcers and radio personalities. Most of them were very stiff and formal in those days and didn't seem at all appealing to him. Arthur decided to go in another direction. He developed a relaxed, folksy style of speaking to the listener instead of talking at them. This made him popular with listeners from the start.
After a gig as a morning DJ and host of a local radio quiz show, Arthur Godfrey was able to work his way to Washington, D.C., where he began hosting a weekly show called Sundial which was heard every Sunday on WJSV, a local radio station owned by CBS. President Roosevelt began a fan of his show and that lead to Godfrey receiving a commission in the Naval Reserve during World War Two.
Godfrey's first exposure to a national audience came when he reported on President Roosevelt's funeral procession over the radio in April of 1945. He choked up during the broadcast, but his honest emotional response to a national tragedy captured the attention of the nation and of CBS. They gave him a late morning spot on their national radio network. That show called Arthur Godfrey Time remained on the network until 1972.
CBS originally aired a weekly show called the Original Amateur Hour on their national radio network. Feeling that Godfrey could improve on it, they created a new show to replace it called Arthur Godfrey's Talent Scouts which gave young performers a chance at fame and fortune. Among the performers that had substantial career boosts from that show were Wally Cox, Lenny Bruce, Don Adams, Tony Bennett, Patsy Cline, Pat Boone, Marilyn Horne and Roy Clark. Some of the acts rejected by the show were Elvis Presley and the group The Four Freshman. Oh, well. I guess not everyone is perfect.
Arthur Godfrey's Talent Scouts became wildly popular on the radio and was soon being broadcast on television as well. Godfrey was beloved by his audiences who loved his style and enjoyed the way in which he often poked fun at his sponsors. This was an innovation that did not originally sit well with the network, but ratings told the story and Godfrey's Talent Scouts remained a popular broadcast until the late 1950s when the public began to tire of talent show formats.
The same kind of drama we have witnessed on various episodes of American Idol, The Voice and The X-Factor was present on Godfrey's show. He was a serious man who demanded complete loyalty from his coworkers and performers. After a performance by singer Julius LaRosa who was a contestant on the show in 1951, Godfrey hired the singer on the air and gave him a regular spot on the show. However, after a successful album and an increase in his popularity, LaRosa began butting heads with Godfrey. This lead to his on air firing which occurred with no previous notice in 1953.
If Godfrey's program proved that people love to watch their peers perform, it also proved that even the most popular of shows has a shelf life. This is a fact cemented by the evolution of American Idol. Still one of the most watched shows on television, ratings have gone done over the past couple of seasons despite changes made to make the show more viewer friendly. Likewise, the American version of Simon Cowell's UK hit, The X-Factor, did not do anywhere near as well as it was expected to do in the USA ratings.
The Voice is the current darling of American reality television, but I am sure that show will also plateau and begin a decline over time. Not to worry though, there will always be another reality gem waiting in the wings to replace it. The reality shows that last the longest are those that do not break the cardinal rule of high ratings: Give the viewers exactly what they want and not more than they can stand.